WELCOME TO STATE BANK OF CROSS PLAINS' eBank!
State Bank of Cross Plains is flexible, innovative and progressive. eBank! is part of our Access Anytime, Anywhere products that provide you with convenience and savings. In today's busy world, you need the flexibility to choose when, where and how you want to bank. eBank! gives you that flexibility.
Watch our eBank! Demo now!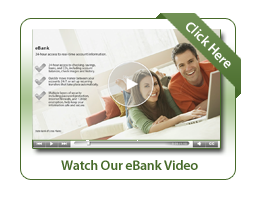 ---
BANKING MADE EASY...
State Bank of Cross Plains' eBank! lets you use your computer to do just about all of your personal banking.
Review Account Activity
Transfer Funds
View Check Images
You can view the checks you write with our Check Imaging feature. Check Imaging is an electronic copy of the front and back of your checks viewed online through eBank!. This feature is available to all eBank! users.
Make Loan Payments
View eStatements
Pay Bills
Export Account Information
eBANK! is a dynamic tool for managing your finances when it is convenient for YOU!
---
GETTING STARTED IS EASY...
Click here to sign into eBank! for the first time. This will begin your secure online enrollment process. To properly identify yourself to our system, you will need to complete the required User Authentication fields and answer the verification or "out-of-wallet" questions presented. You will then be prompted to create an Access ID and Password.
Please note that if you are already a TeleBank user, you may use an account number for the Access ID and your TeleBank password to log in. You will be required to change your eBank! Access ID to a 6-19 character code.
---
PLEASE NOTE...
For optimal results, we recommend using:
Operating System: Windows XP, Windows Vista, Windows 7, Windows 8, MAC OS
Browser: Internet Explorer 8.0 or higher, Mozilla Firefox 3.5 or higher, Safari 4.0 for PC or higher, Safari 5.0 for MAC or higher, Opera 10.0, 11.0 and Google Chrome 9.0 or higher
PDF Reader: Adobe Reader/Acrobat 10
Screen resolution set to 800 x 600 for 14 inch monitor or 1024 x 768 would be better on 17 inch monitor.
---
SECURITY...
Security of your financial information on the internet has been our highest concern. We have put procedures and extensive hardware systems in place to assure that your information is secure. We believe that we have put in place the best security possible for eBANK! and would not offer you this service otherwise. Please read the Security Statement for more detailed security information.